About Us
We can't rhapsodize about having a vision for our vineyard while sipping wine curled up in front of a crackling fire. That usually happens only in the movies! Likewise, we can't tell you about a grandfather who came from the old country with a grapevine in his pocket and a dream in his heart and a long family history in winemaking. What we can do, however, is tell you about our evolution from corporate careers to life in a vineyard.
We knew we wanted a simpler lifestyle, one with stronger ties to the land and we occasionally mused about planting a vineyard. The more we thought about it, the more appealing the idea became. Eventually, it all took form and our dream became a goal. There is a saying about angels watching out for children and fools, and there have been times along the way that we've felt like perfect examples of the latter.
You Want To Do What??
Once the decision was made we were totally committed to the idea and set about learning all we could about vineyards and wine. Everyone we contacted was very generous about sharing their stories and we found they all had a different opinion about almost everything. In the end, we sifted through all the information, used some common sense in the decision process and did what we felt was right for us. Yes, we could have been in big trouble there, but fortunately that angel-fool thing kicked in.
Where to Start?
Even though our main goal was to plant a vineyard, we realized it would be valuable to know more about all aspects of the business. Paula took a job as a Wine Specialist (a fancy term for "salesperson") with a wine distributor in order to learn about how wine is distributed and sold. One condition for employment was that she take the Sommelier exam in order to have credibility with customers, many of whom were Sommeliers themselves. What an opportunity! Thus began a journey into the world of wine which included a trip to France to taste wines throughout the Loire and Rhone valleys. It was here that we realized our rocky soil, rather than being a detriment, could be and advantage. It was here that we fell in love with Rhone wines.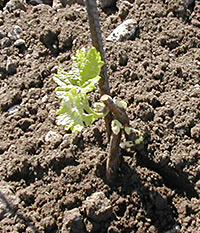 Although many vineyard owners go on a quest for just the right land for growing perfect grapes, we inherited our land, which for decades had grown the most amazing crop of weeds. We knew that grapes do best when they are on a south or southwestern slope. Check. We also knew they do best when they struggle a little for nutrition and water. Check. Finally, we knew that grapes are happiest where there is good drainage and their roots aren't standing in pools of residual water. Check. Because the vineyard rows run downhill, so does the cold, frosty air that comes with a late spring frost. Happily, our grapes don't suffer if we have such a frost.
In early 2003 we were ready to get started. That meant laying out the vineyard and placing an order for the vines. Next we ripped the vine rows to a depth of four feet in order to break up the rock cap under the soil. That experience is a whole story unto itself……..ask us and we'll be glad to tell you about it over a glass of wine.
We removed the biggest boulders brought up by the ripping process, then leveled the surface. We decided an "old world" vineyard with head-trained vines suited our style and each of our 4600 vines required a stake to climb until it could stand on its own, Drip irrigation, necessary to keep our grapes healthy during the hottest parts of the summer was the last thing to complete before planting. We took delivery of our vines just after Memorial Day and it was finally time to plant!
We Didn't See That One Coming!
All during the remainder of 2003, 2004 and the first part of 2005, we tended the new vineyard and worked hard keeping the vines healthy and happy in anticipation of our first harvest. We'd heard rumors that grape sales were slow due to a glut of grapes in the market, but couldn't imagine not being able to sell our few tons of fruit.
We contacted everyone we knew, but kept running into the same story……..no one was buying grapes. After all our hard work, we simply couldn't face dropping the crop on the ground, so we did the only thing we could…..we pulled up our big-kid pants and got into the wine business.
Epilogue
Since our first harvest in 2005, we've produced some amazing grapes and have had a good many learning experiences along the way. The old adage that "you don't know what you don't know" describes our first few seasons perfectly. Through it all we've never regretted our decision nor the hard work and occasional frustration that have accompanied us on the journey. In the end, our grapes become wines enjoyed by customers who often become good friends. Tre Gatti wines exhibit bold, rich flavors and a wonderful sense of place. They have been and continue to be, wines we can be proud of.