2017 Grenache Blanc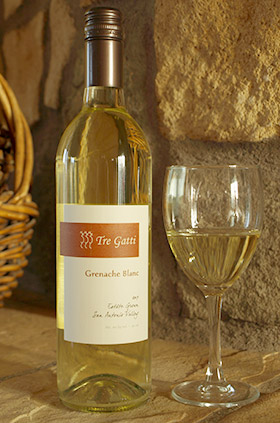 The 2017 vintage of Tre Gatti's recently planted Grenache Blanc grapes is light straw-colored with two prime qualities: medium bodied richness and crisp acidity.
The nose has bright green apple and mandarin orange aromas, followed by flavors of apple, mineral and a touch of peach on a lingering finish. The wine shows well at low temperatures where many white varietals shut down when served too cold. As the wine warms up a bit in the glass it unfolds, displaying luscious fruit and steely mineral notes. **
Grenache Blanc pairs beautifully with softer cheeses including Brie and Camembert as well as medium-hard nutty cheeses such as Swiss, Emmentaler, Comté, Jarlsberg and Gruyère. It's a natural with most types of seafood, especially shellfish and pairs well with chicken, pork and braised short ribs. Its natural crispness makes it perfect with many vegetables including zucchini, cauliflower, tomatoes, lentils, beans, winter squash and corn.
** NOTE: Due to this vintage's small production, the wine wasn't cold stabilized prior to bottling. This makes it prone to a crystallization reaction between the potassium and the tartaric acid which combine to form crystals ("tartrates"). You'll notice these crystals in the bottom of the bottle and while they aren't harmful, you'll want to pour carefully to leave them in the bottle!
---
| | |
| --- | --- |
| Bottle Size | 750 ml |
| Alcohol | 13% |
| Production | 25 cases |
| Aged In | Neutral oak after fermentation |
| Blend | 100% Estate Grown Grenache Blanc |
| Appelation | San Antonio Valley |