Baba Ganoush
This smoky, garlicky roasted eggplant spread is similar to hummus, deleicious and a cinch to make. Serve it drizzled with buttery extra virgin olive oil and briny Kalamata olives.
Ingredients
1 large eggplant, cut into thick slices
1/4 cup tahini, plus more as needed
3 cloves garlic, minced
1/4 cup fresh lemon juice, plus more as needed
1 pinch ground cumin
salt, to taste
1 T. extra virgin olive oil
1 T. fresh flat-leaf parsley, chopped
1/4 cup brine-cured black olives, such as kalamata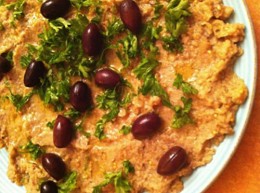 Directions
Prepare a medium-hot fire in a grill. Brush the eggplant slices with EVOO and place on the grill rack 4 to 5 inches from the fire. Grill, turning frequently, until the flesh feels very soft. This step can be done in a grill pan on the stove, if preferred.
Remove eggplant slices from the grill, let cool slightly and peel off and discard the skin. Place the eggplant flesh in a bowl.
Using a fork, mash the eggplant to a paste. Add the tahini, the garlic, the lemon juice and the cumin and mix well. Season with salt, then taste and add more tahini and/or lemon juice, if needed.
Transfer the mixture to a serving bowl and spread with the back of a spoon to form a shallow well. Drizzle the olive oil over the top and sprinkle with the parsley. Place the olives around the sides.
Serve at room temperature.