Garlic & Herb Crusted New York Strip Roast
Beautifully marbled, wonderfully tender and just plain delicious, this New York strip roast is the perfect choice. Great for French Dip sandwiches if you manager to have any left-overs!
| | |
| --- | --- |
| Prep Time | 15 minutes |
| Cook Time | 50 - 60 minutes |
| Total Time | 75 minutes |
| Yield | Serves 10 |
| Varietal Pairing | With its fruity flavor and bold scent, Malbec is a great choice to accompany a less fatty New York Strip roast. Other excellent choices include Cabernet Franc, Rioja and Merlot. |
Ingredients
4 garlic cloves
8 fresh sage leaves
4 teaspoons fresh thyme leaves
2 t. chopped fresh rosemary
4 teaspoons olive oil
2 teaspoons salt
1 teaspoon freshly ground black pepper
1 4-to 5-pound boneless New York strip roast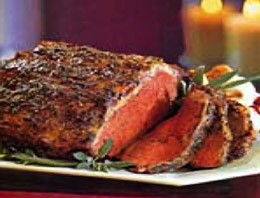 Directions
With machine running, drop garlic into processor; blend until finely chopped. Add sage, thyme, oil, salt and pepper; process until paste forms.
Pat meat dry with paper towels. Rub meat all over with herb paste. Cover; chill at least 3 hours. (The roast can be seasoned 1 day ahead. Keep refrigerated.)
Preheat oven to 450°F. Place meat, fat side up, on rack in roasting pan. Roast meat 15 minutes. Reduce oven temperature to 350°F. Roast meat until instant-read thermometer inserted into thickest part of meat registers 130°F for medium-rare, about 35 minutes. Remove from oven; let stand 20 minutes.
Cut crosswise into slices; arrange slices on platter and garnish with fresh sage and rosemary.