Green Chili Polenta Cakes
These savory, zesty cakes are southwestern comfort food at its very best. They look lovely on the plate and taste absolutely fantastic.
Ingredients
1 1/2 cups polenta
1/2 cup diced roasted green chilies
1 small onion, finely diced
3 cloves garlic, minced
3 cups chicken broth
Salt and pepper
1/4 cup grated Parmesan cheese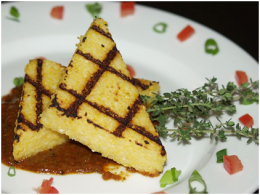 Directions
Sweat the onion and garlic in a dash of oil. Add the green chilies and the stock and bring to a boil.
Reduce the heat and stir in the polenta simmering until the spoon stands up-right without falling over. Stir frequently.
Turn the polenta out onto a lightly greased cookie sheet. When the polenta cools, cover with plastic wrap and refrigerate for a minimum of three hours.
When the polenta is well chilled, flip it onto a cutting board and cut into circles, triangles or squares.
Pan fry or grill the cakes until golden brown and crispy. Keep warm in oven until ready to serve.