Green Chili Polenta Cakes
These savory, zesty cakes are southwestern comfort food at its very best. They look lovely on the plate and taste absolutely fantastic.
| | |
| --- | --- |
| Prep Time | 15 minutes |
| Cook Time | 60 minutes |
| Total Time | 75 minutes |
| Yield | Serves 4-6 |
Ingredients
1 cup polenta
1/3 cup diced roasted green chilies
1 small onion, finely diced
2 cloves garlic, minced
4 cups chicken broth
1/2 cup grated Parmesan cheese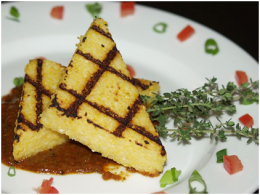 Directions
Sweat the onion and garlic in a dash of oil until onion is translucent. Add the green chilies and cook 2-3 minutes.
Heat the oven to 350°F.
Grease a 3 qt. casserole; pour in the polenta, chicken broth, butter, and salt and stir with a fork until blended. The mixture will separate and take more than half the cooking time to come together.
Bake uncovered for 40 minutes. Stir the polenta, add the Parmesan cheese and bake for another 10 minutes. Remove from the oven and turn the polenta out onto a lightly greased cookie sheet. When the polenta cools, cover with plastic wrap and refrigerate for a minimum of three hours or overnight.
When the polenta is well chilled, flip it onto a cutting board and cut into circles, triangles or squares.
Pan fry or grill the cakes until golden brown and crispy. Keep warm in oven until ready to serve.