Wilted Spinach
Easy, fresh, yummy and healthy! Tangy lemon, the kick of red pepper flakes and the punch of garlic......it doesn't get any better than that.
Ingredients
1 T. extra-virgin olive oil
1 T. butter
4 cloves garlic, minced
1 lb. spinach, stems removed
1/2 t. freshly grated nutmeg
dash red chili pepper flakes
Salt
Freshly ground black pepper
Juice of 1/2 lemon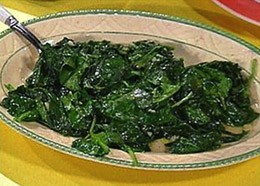 Directions
Heat a skillet over medium heat. Add oil, butter and garlic. Sauté garlic for 1-2 minutes.
Add some of the spinach to the pan turning spinach leaves until they wilt.
Continue adding more spinach to the skillet and repeat the process until all of the spinach is incorporated.
Season the wilted spinach with chili pepper flakes, salt, pepper and nutmeg. Drizzle with lemon juice, then serve garnished with lemon slices or pine nuts.