Roasted and Glazed Brussels Sprouts
Even if you're not a Brussels sprouts fan, this dish might just change your mind. Who can deny the appeal of salty bacon bits with sweet and tart cranberries? Add the essential flavors of Tre Gatti's Sweet 'n Savory Relish and you have the perfect combination.
Ingredients
1 pound Brussels sprouts
2 T. oive oil
Salt and pepper
1/2 cup Tre Gatti Sweet 'n Savory Relish
1/3 cup ground cranberries
1/4 cup orange juice
1/4 cup crumbled bacon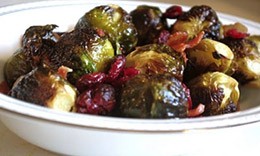 Directions
Preheat oven to 375°.
Trim Brussels sprouts, then cut them in quarters through the root end. In a bowl, toss the sprouts with olive oil then arrange on a parchment lined baking sheet. Sprinkle with salt and pepper and roast for 25 to 30 minutes, or until just beginning to brown.
Combine the Sweet 'n Savory Relish with ground cranberries in a small saucepan. Bring to a simmer over low heat (or heat in a microwave oven).
Transfer the sprouts to a heated serving bowl; drizzle the relish mixture over the sprouts, toss and garnish with crumbled bacon. Serve immediately.