Stuffed Double Baked Potatoes
Who doesn't like a baked potato? And who wouldn't like a baked potato stuffed with goodies to make it even more delicious? If time is short, prepare the stuffed potatoes ahead and pop them into the oven to finish just before you're ready to serve dinner.
| | |
| --- | --- |
| Prep Time | 15 minutes |
| Cook Time | 60 minutes |
| Total Time | 75 minutes |
| Yield | Serves 4 |
Ingredients
4 medium russet potatoes
Olive oil
Kosher salt
1 pkg. garlic and herb spread-able cheese (like Rondelé)
1/4 lb. bacon, chopped
4 oz. grated cheddar cheese
1 T. chopped chives
Salt to taste
Freshly ground black pepper
Smoked paprika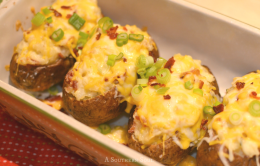 Directions
Preheat the oven to 400 degrees F.
Place potatoes on a baking sheet; rub well with oil and sprinkle generously with salt. Bake potatoes until fork tender, 45-50 minutes. Remove from the oven and cool.
While potatoes bake, cook the bacon until crispy over medium heat. Remove from pan and drain on paper towels.
Cut potatoes in half, lengthwise. Using a spoon, scrape out the flesh of each potato into a mixing bowl. Mash the potatoes, mixing in the garlic and herb cheese; season with salt and pepper and mix well. Fold in the bacon, half the cheddar cheese and chives. Spoon the potato mixture back into the shells. Top the potatoes with the remaining cheese and dust with paprika.
Place the filled potatoes on a baking sheet and bake at 400° until the cheese melts, and tops are golden, about 8 to 10 minutes.
DO AHEAD: Cover filled potatoes and refrigerate. 45 minutes before serving, remove potatoes from refrigerator and allow to come to room temperature, uncovered. Preheat oven to 400°. Bake potatoes as directed above.