Butternut Squash Risotto
Tender, creamy risotto is delicious enough all on its own. But when you add roasted butternut squash, herbs and Parmesan cheese, you can tell in an instant that these ingredients were just made for each other!
| | |
| --- | --- |
| Yield | Serves 4-6 |
| Pairs Well With | Old Curmudgeon Red Non Vintage |
Ingredients
1/2 medium butternut squash, about 1/4 pound
2 t. olive oil
4 T. soft butter, divided
2 cups Arborio rice
6-8 cups chicken stock, heated to a simmer
2 cloves garlic, minced
1 cup parmesan cheese, freshly grated
2 T. chopped mixed fresh herbs, such as rosemary, thyme, and sage
salt and freshly ground black pepper
fresh sage leaves for garnish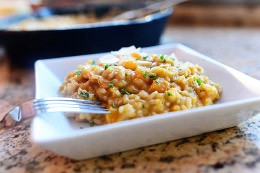 Directions
Preheat oven to 350 degrees. Scrape the seeds out of the squash half, brush the cut surfaces with the olive oil and place on a baking sheet. Bake for about 40 to 45 minutes or until flesh of squash is very soft. Remove squash from the oven and scoop out the flesh. Coarsely chop the squash and set aside.
Melt half the butter over medium high heat in a large sauté pan. Add the raw rice and stir until grains are coated with butter. Add the minced garlic and stir for a minute. Start adding the simmering chicken stock, one cup at a time, only adding more chicken stock when the rice has absorbed almost all of the stock already in the pan. Stir frequently.
When rice is cooked to the al dente stage, add the rest of the butter, the roasted squash, parmesan cheese and herbs. Add a little more chicken stock, just enough to make the risotto soupy and creamy in consistency.
Season to taste with salt and black pepper. Serve garnished with fresh sage leaves.