Rustic Plum Cake
Filled with the luscious flavors of summer, this show-stopping dessert is will be a real hit. I like to use Italian prune plums, but if they're not available, the sweet, juicy plums of late summer will do just fine.
Ingredients
2 T. raspberry jam
3 T. brandy
1 pound Italian prune plums, quartered and pitted
3/4 c. flour
3/4 c. sugar
1/3 c. slivered almonds
1/2 t. baking powder
1/4 t. salt
6 T. butter
1 egg plus 1 egg yolk
1 t. vanilla
1/4 t. almond extract
Powdered sugar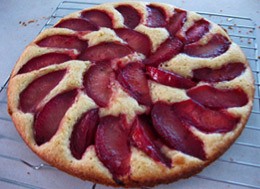 Directions
Cook jam and brandy in large non-stick skillet over medium heat until reduced to a thick syrup, 2 - 3 minutes. Add plums, cut-side down, and cook until the liquid is syrupy, 5-6 minutes. Cool in pan about 20 minutes.
Preheat oven to 350°. Spray a 9" spring form pan with cooking spray with flour. Process sugar and nuts in food processor until finely ground, 1 minute. Add flour, baking powder, salt and pulse to combine. Add butter and pulse until just incorporated. Add eggs, vanilla and almond extract and process until smooth, about 10 seconds, scraping bowl once if needed. Batter will be thick and heavy.
Transfer batter to prepared pan. Using a spatula, spread batter evenly to pan edges. Stir plums to coat with syrup, arranging slices evenly over surface of batter.
Bake until cake is golden brown, about 40 - 50 minutes. Cool in pan on wire rack at least 30 minutes. Serve with vanilla ice cream or whipped cream if desired.