Chocolate Decadence with Raspberry Red Wine Sauce
This is definitely a "special occasion" dessert, but I've been known to make it "just because". It's rich, luscious and so truly decadent that just a small slice will send you to chocolate heaven.
Ingredients
Cake
12 ounces bittersweet chocolate or chocolate chips, roughly chopped
2 sticks plus 3 tablespoons butter, cut into chunks
1 1/4 cup sugar
6 eggs
1 cup unsweetened cocoa powder
1 tablespoon milk
1 tablespoon honey
1/4 teaspoon vanilla extract

Sauce
2 cups Tre Gatti Baldo Rosso
1/2 cup (generous) frozen unsweetened raspberries
1/4 cup sugar
1/2 t. vanilla extract

Whipped Cream
1 cup heavy cream
2 T. sugar
1 t. vanilla extract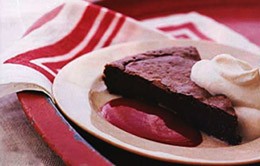 Directions
Cake:
Preheat oven to 375°F. Spray a 9" springform pan with cooking spray, line the bottom with parchment paper, spray the paper then set pan aside.
Place 8 oz. chocolate and 2 sticks butter in a saucepan over medium low heat, stirring until mixture is completely blended. Remove from heat to a large bowl. Add sugar, mixing well. Whisk in eggs one at a time. Sift cocoa into mixture, stirring until just blended.
Pour batter into prepared pan; bake for 35 to 40 minutes until a toothpick inserted in the center comes out clean. Cool for 10 minutes, then invert onto a plate. Remove sides of springform pan and parchment paper. Set cake aside to cool completely, then refrigerate, uncovered, for 1 hour before serving.
Sauce:
Bring the wine, raspberries, sugar and vanilla extract to a boil in heavy large saucepan over high heat, stirring until sugar dissolves. Cook until reduced to sauce consistency, stirring occasionally, about 20 minutes. Strain sauce; cool.
Whipped Cream:
Add sugar and vanilla to heavy cream in a deep bowl. Whip until until the cream reaches stiff peaks.
To Assemble:
Drizzle slices of cake with sauce, then top with a dollop of whipped cream.