Baked Brie with Autumn Compote
You really can't beat this for an elegant little appetizer. You'll love the wonderful aroma, the creamy texture, the golden, flaky crust and the sweet surprise tucked inside.
Ingredients
1 tube crescent rolls
1 oz. round Brie cheese
1/4 cup fig jam
1/2 med Granny Smith apple, finely chopped
1/4 cup finely chopped pecans
1 T. brown sugar
1 T. maple syrup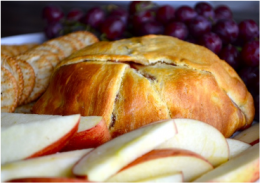 Directions
Preheat oven to 350°.
On a cookie sheet, lay out the crescent rolls flat, sealing perforations.
Slice Brie in half, horizontally, spread one half with fig jam, chopped apple and chopped pecans and top with the other half of the Brie. Place the Brie on top of the pastry, folding the dough over the top; trim off excess dough. Turn the wrapped Brie over so the cut edges are on the bottom.
Decorate with pastry scraps cut into shapes, if desired. Drizzle with maple syrup and sprinkle with brown sugar. Bake for 25-30 minutes until the pastry is golden brown. Allow to cool for 10 minutes before serving.
Serve with fresh apple and pear slices and crackers or baguette slices.