Crèpes Florentine Appetizer
When you serve these elegant and delicious appetizer crèpes, it will seem like you're a guest at your own party! Make and fill the crèpes ahead, then heat them in the oven at the last minute. What could be easier?
Ingredients
Crepes
2 cups flour
2 1/2 T. finely grated Parmesan cheese
1 1/3 cup milk
3 lg. eggs
1/2 t. salt
1 1/3 cup water
2 1/2 T. melted butter, additional for cooking the crepes

Filling
3 T. extra virgin olive oil
1 1/2 lbs Crimini mushrooms, rinsed, trimmed and thinly sliced
1/4 cup fresh flat-leaf parsley, finely chopped
1 T. fresh thyme leave
2 garlic cloves, finely chopped
salt & pepper, to taste
1 10 oz. package fresh spinach, washed, stemmed & coarsely chopped
5 oz. Boursin cheese
2 cups gruyere cheese, shredded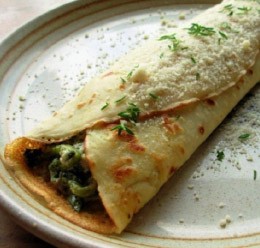 Directions
Crepes
In a blender, combine all of the ingredients and pulse for 10 seconds. Cover the batter and place in the refrigerator for 1 hour. This allows the bubbles to subside so the crèpes will be less likely to tear during cooking. The batter will keep for up to 48 hours.
Heat a 6"–7" non-stick skillet. Add butter to coat. Pour 1/8 cup (2 T.) of the batter into the center of the pan and swirl to spread evenly. Cook for 30 seconds and flip. Cook for another 10 seconds and remove to a rack or cutting board, laying the crèpes out flat to cool. Continue until all the batter is gone.
When cool, the crèpes can be stacked and stored in a sealable plastic bag in the refrigerator for up to 3 days.
Filling
Preheat oven to 350°F.
Heat the oil in a large skillet until it begins to shimmer. Add the mushrooms all at once and cook, stirring, over medium-high heat until they begin to brown, about 10 minutes. Stir in the parsley, thyme, garlic, salt & pepper. Cook for 1 minute more.
Reduce heat to medium and stir in the spinach. Cook until just wilted, about 2 minutes. Add the Boursin, stirring until melted.
Spoon mixture down the center of each crepe. Roll up crepes and arrange side by side in a 13x9 baking dish and sprinkle with shredded Gruyère cheese.
Cover dish with foil and heat crèpes until cheese melts, about 15 minutes.
Serve warm.