Angel Hair Pasta with Chicken and Artichokes
This light, bright pasta dish is a delightful departure from the usual cream or tomato sauce pasta presentations. Using a roast chicken from the grocery store makes prep a breeze and fresh lemon gives the whole dish an appealing freshness.
| | |
| --- | --- |
| Prep Time | 15 minutes |
| Cook Time | 20 minutes |
| Total Time | 50 minutes |
| Yield | Serves 4 |
| Varietal Pairing | Artichokes contain a chemical called cynarin which can make the wine you're drinking taste oddly sweet, flabby and dull. The safest bet is a crisp, bone dry white wine with high acidity and no oak influence. I suggest a New Zealand style Sauvignon Blanc. |
Ingredients
1 1/4 lb cooked chicken, coarsely chopped
2 tbsp olive oil
4 oz bacon or pancetta, coarsely chopped
1 tbsp garlic, minced
1 1/2 tbsp capers
8 oz. marinated artichoke hearts, drained
1 cup dry white wine
zest of 1 lemon
juice of 1 lemon
3/4 stick butter, cubed
1/2 lb angel hair pasta
1/4 cup parmesan cheese, grated
1/4 cup fresh Italian parsley, chopped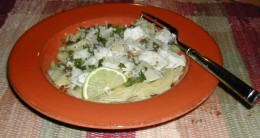 Directions
In a large pot, boil water for pasta.
In a large sauté pan over medium heat, cook bacon until it's almost crisp; remove from pan and set aside to drain on a paper towel. Add olive oil, 1 tbsp butter, garlic, capers, and artichoke hearts and cook until garlic is fragrant, about 3 minutes. Scrape up any browned bits on bottom of pan and add wine to deglaze. Add lemon zest and simmer sauce mixture over medium heat until reduced by half. Add remaining butter stirring over low heat until incorporated. Place cooked chicken in the sauce to warm through, add salt and pepper to taste.
Meanwhile, cook angel hair pasta according to package directions and drain. Place drained pasta into a large serving dish and pour chicken & sauce over the pasta. Drizzle with lemon juice and sprinkle with parmesan cheese then parsley. Serve immediately with additional parmesan cheese on the side if you wish.