Provençal Tart
Enjoy all the summery flavors of the Mediterranean with this tomato, caramelized onion and olive tart. It's equally delicious served as an appetizer or a light dinner with a salad.
Ingredients
2 T. olive oil
1 large onion, sliced
1/2 t. kosher salt
1/4 t. freshly ground black pepper
1/2 t. sugar
1 t. chopped fresh rosemary
1/2 t. fresh chopped thyme
1 12" pre-baked pizza shell such as Boboli
3/4 cup Parmesan cheese, freshly grated, divided
3 Roma tomatoes, sliced thinly
18 Kalamata olives, pitted
Fresh basil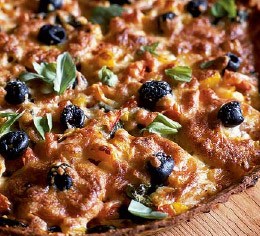 Directions
In a large, heavy skillet, heat the oil over low heat; add the onions, salt, pepper, rosemary, thyme and sugar. Stir to combine. Continue cooking over very low heat, stirring occasionally, until the onions are caramelized and dark golden brown, about 45 minutes to 1 hour. (These can be done ahead and brought to room temp when you're ready to assemble the tart.)'
Meanwhile, thinly slice tomatoes and place on paper towels. Salt lightly and cover with another towel, pressing lightly. Allow to stand for 15 minutes.
Preheat the oven to 475 degrees F.
Place the tomatoes on the pizza crust, sprinkle; with ¼ cup Parmesan. Top with caramelized onions. Sprinkle with remaining Parmesan cheese then scatter the olive over the top. Bake until the tart is golden and bubbly, about 8-10 minutes.
Scatter torn fresh basil leaves on top of the tart and cut into 2" squares. Arrange pieces on a serving platter; garnish with sprigs of rosemary and more olives. Serve immediately.