Sesame Roasted Shrimp with Apricot Dipping Sauce
East meets West in this light and tasty appetizer. Ginger and hot mustard tantalize your taste buds and add just the right amount of kick to the luscious apricot flavors of the dipping sauce.
Ingredients
Sauce
1 T. dry mustard
1 T. water
3/4 cup apricot jam
1 T. fresh ginger, peeled and minced
1 large green onion, very thinly sliced
2 T, unseasoned rice vinegar

Shrimp
1 lg. egg white
1/2 t. salt
1/2 t. Chinese five-spice powder
1 T. toasted sesame oil
3 T. sesame seeds, toasted
1 pound large shrimp (16 to 20)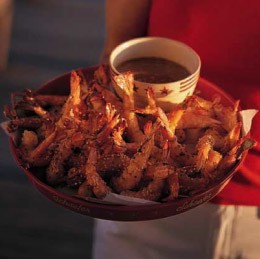 Directions
Sauce
Make the sauce first, up to 3 days ahead. In a small bowl, mix the mustard and water and let sit for 5 minutes. Stir in the remaining ingredients until well mixed. If made ahead, refrigerate the sauce until shortly before serving. Serve the sauce warmed or at room temperature.
Shrimp
Preheat an oven to 475°F. In a medium bowl, whisk the egg white, salt, five-spice, and oil. Put the sesame seed in a small bowl. Lightly oil a baking sheet or spray with vegetable-oil cooking spray. Peel, devein, and remove tails from the shrimp. Drop the shrimp into the egg white mixture and toss to coat thoroughly.
Sprinkle both sides of the shrimp with sesame seeds. Lay them on the baking sheet, not touching.
Roast the shrimp for about 5 minutes, or until just cooked through and pink.
Serve the shrimp with the dipping sauce.