Apple and Walnut Torta
This dessert is like a cross between a pudding and a crisp, packed with lots of nuts and apples and cranberries. The addition of cinnamon really warms up the flavor. Try it on a cool evening with a cup of spice tea or cappucino.
Ingredients
2 large eggs
1/2 cup brown sugar
1 t. vanilla extract
1/4 cup flour
pinch of salt
2 t. ground cinnamon
1/2 cup chopped walnuts
2 lg. green apples, peeled, cored and diced
1/4 cup dried cranberries
1/4 cup sliced almonds
2 T. turbinado (raw cane) sugar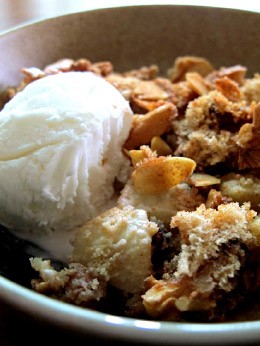 Directions
Preheat the oven to 350°. Butter an 8"x8"x2" baking dish or an 8" cake pan.
In a large bowl, beat eggs until frothy then beat in brown sugar and vanilla until light and fluffy.
In another bowl, sir the flour, salt and 1 t. cinnamon to blend. Stir the flour mixture into the egg mixture.
Reserve a few walnuts for the topping. Mix the remaining nuts, apples and cranberries into the batter. Spread batter into the prepared pan.
In a small bowl, mix the turbinado sugar, the remaining 1 t. of cinnamon, the reserved walnuts and sliced almonds and scatter evenly over the batter. Bake for 25 mins or until the cake is set and golden brown. Let cool slightly and serve warm with whipped cream or vanilla bean ice cream.