Pumpkin Chiffon Pie
Traditional pumpkin pie can be too heavy, especially after a big meal. This pie, however, is light and airy yet retains the wonderful warm flavors of the season we all love so much!
Ingredients
Crust
1 1/4 cups graham cracker crumbs
1/4 cup granulated sugar
1/2 t. ground cinnamon
6 T. butter or margarine, melted

Pie
1 env. Knox gelatin
1/4 cup cold water
3/4 cup sugar
1/2 t. salt
1 1/2 cups pumpkin pie mix
3 lg. egg yolks
1/2 cup milk
3 large gg whites
1/4 cup sugar

Whipped Cream
1 cup whipping cream
1 T. sugar
1 t. vanilla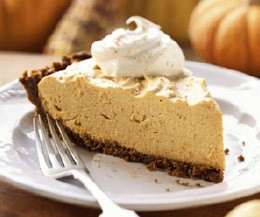 Directions
Crust
Preheat oven to 350°. Combine graham cracker crumbs, granulated sugar and cinnamon in medium bowl; stir in butter. Press onto bottom and up side of 9-inch pie plate. Place on a baking sheet, and bake until darkened and firm, 11 to 13 minutes. Let cool.
Pie
Sprinkle gelatin over water in a small, shallow dish; set aside.
Separate eggs, reserving egg whites.
Blend remaining ingredients in a saucepan; cook over low heat, stirring until the mixture comes to a boil; boil for one minute.
Remove from heat; stir in gelatin. Cool. When partially set, beat mixture with a whisk until smooth. Carefully stir in egg whites which have been beaten with 1/4 cup sugar. Pile into baked pie shell. Chill until set, about 2 hours.
Whipped Cream
Pour one cup of whipping cream into the bowl and beat until it holds soft peaks. Soft peaks should fold over when the beaters or whisk are lifted. If using an electric mixer, start on medium speed to prevent splattering, then speed up. Once soft peaks start to form, you can add sugar and vanilla. Beat again until soft peaks form.