Scalloped Potato Gratin
Elegant enough for company, easy enough for every-day, you'll be a rock-star when you serve these potatoes. The herb and garlic infused cream is what makes them extra delicious.
Ingredients
1 cup half and half
1/2 cup heavy cream
3 bay leaves
2 sprigs fresh thyme, plus more to finish
2 garlic cloves, chopped
1/2 t. freshly grated nutmeg
Salt and freshly ground black pepper
2 lbs. russet potatoes, peeled and cut into 1/8-inch-thick slices
1/2 cup freshly grated Parmesan cheese, plus more for broiling
Butter for coating baking dish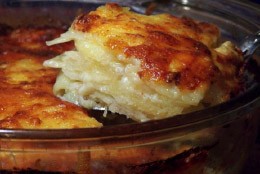 Directions
Preheat the oven to 400 degrees F.
In a saucepan, heat up the cream with the bay leaves, thyme, garlic, nutmeg and some salt and pepper. While the cream is heating up, butter a casserole dish.
Using a slotted spoon, remove the bay leaves and thyme. Pour the heated cream into a large bowl with the potato slices. Mix gently to coat the potatoes. Dust ½ cup Parmesan cheese over the potatoes. Season the mix with a little bit of salt and pepper. Mix to gently incorporate.
Spoon a little bit of the cream into the bottom of the casserole dish, then spoon the potatoes in, leveling out for uniform cooking time. Pour the remaining cream at the bottom of the bowl over the top of the potatoes. Top with additional Parmesan cheese and fresh thyme leaves. Cover the dish with aluminum foil, but pull back one corner so steam can escape. Bake for approximately 12 hour, removing foil the last 20 minutes so the top will brown.