Baja Bean, Rice and Corn Salad
This vegetarian/vegan salad is full of flavor AND fiber. To punch it up for meat lovers, add some left over diced chicken or grilled shrimp. Delicious!
Ingredients
1 cup long grain brown rice
4 cups water
1 t. salt
3 T. olive oil, divided
1 Anaheim chili, seeded and diced
1 med. red onion, diced
3 garlic cloves, minced
2 cups roasted corn (frozen is fine)
1 t. kosher salt
15 oz. can black beans, rinsed well and drained
1 T. fresh lime juice
1/2 cup pico de gallo (medium)
Freshly ground black pepper
Fresh cilantro, chopped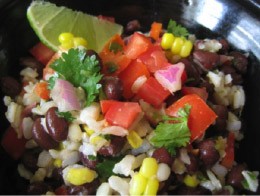 Directions
Rinse rice in a strainer under cold running water for 30 seconds, swirling the rice around with your hand. Meanwhile, bring 4 cups of water to a boil in a large pot over high heat. When water boils, add the rice and salt, stirring once. Turn heat to medium and boil, uncovered, for 30 minutes, stirring occasionally. After 30 minutes, pour the rice into a strainer over the sink. Let the rice drain for 10 seconds, then return it to the pot, off the heat. Immediately cover the pot with a tight-fitting lid and set it aside to allow the rice to steam for 10 minutes (if your pot lid isn't extremely tight, place a piece of aluminum foil over pot then place the lid on top of foil for a tighter seal). After ten minutes, uncover rice, fluff with a fork, and season with salt to taste; transfer to a large salad bowl.
Heat 2 T. of the oil in the same saucepan over medium heat until hot. Add the chili, onion and garlic and stir until slightly softened, about 3 minutes. Add the corn and salt and cook, stirring, just until heated through, about 1 minute. Transfer the vegetables to the bowl with the rice and toss to mix.
Add the beans, the pico de gallo, the remaining 2 tablespoons oil and the lime juice and toss well. Adjust seasoning with additional salt, pepper and add chopped cilantro. Toss again and serve at room temperature.