Chopped Mexican Salad
Talk about a masterpiece salad! Romaine, corn, tomato, avocado, green apple, red onion and crushed tortilla chips give it amazing flavor and texture. If that's not enough, it's dressed with a delightful citrus-enhanced vinaigrette complete with fresh garlic and Mexican spices.
Ingredients
Vinaigrette
1/2 t. ground cumin
1/2 t. ground coriander
1/8 t. chili powder
1 t. garlic, minced
1/4 cup fresh orange juice
1/2 t. orange zest
1/4 cup fresh lime juice
1/2 t. lime zest
1 shallot, minced
1 1/2 T. agave syrup or honey
1/3 cup extra virgin olive oil
Kosher salt & freshly ground pepper

Salad
1 small head romaine lettuce, cut into 1/2-inch strips
2 medium tomatoes, cored, seeded and diced
1 small red onion, diced
1 medium green apple, peeled, cored and diced
1/2 C. fresh corn kernels (cut from 1 ear of corn)
1 1/2 C. crushed tortilla chips
1 avocado, peeled, seeded and diced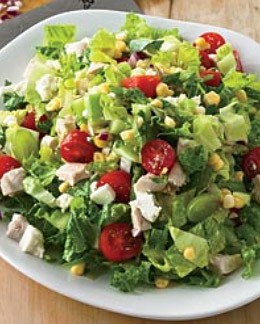 Directions
Vinaigrette
Place spices in a mini food processor, along with garlic, orange juice and zest, lime juice and zest, shallot, agave, and olive oi; puree. Season generously with salt and pepper; set aside.
Salad
In a large bowl, combine lettuce, tomatoes, red onion, apple and corn kernels. Toss well. Drizzle with dressing. Toss until well-coated. Top with avocado and tortilla chips, tossing gently again; serve.