Ensalata Rustica
This antipasto-style salad can serve as a main dish for 4 or a side salad for 6. Lots of flavors and textures keep it vibrant and exciting. Toasted ciabatta or herbed garlic bread is the perfect go with to complete the meal.
Ingredients
Dressing
1 clove garlic, minced
1/2 t. salt
1/8 t. black pepper
1/2 t. dried oregano, crushed
2 T. red wine vinegar
3 T. olive oil

Salad
1 head romaine lettuce
1/2 head iceberg lettuce
2 oz. Italian dry salami, julienned or cubed
2 oz. Provolone cheese, julienned or cubed
4 oz. marinated artichoke hearts
4 oz. green beans, cooked
4 oz. Kalamata olives
2 oz. pepperocini
2 med. Roma tomatoes, diced
1/4 med. red onion, thinly sliced
1/2 cup garbanzo beans
1/2 cup kidney beans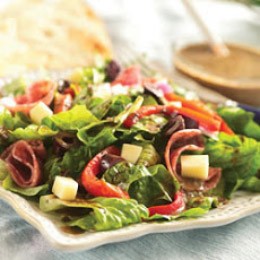 Directions
Mix first six ingredients in a small bowl; set aside. Mix remaining ingredients except lettuce, salami, and provolone in a large salad bowl. Pour dressing over the vegetables; set aside.
Break lettuce into bite-size pieces, making about 4 cups.
Just before serving, add lettuce to the marinated vegetables and toss. Top with salami and provolone and toss again.