Roasted Pears with Blue Cheese
With its delicious combination of flavors and textures, this easy and impressive salad makes a week-night dinner feel like a special occasion.
Ingredients
3 ripe but firm Anjou pears
Juice from 3 lemons
3 oz. coarsely crumbled Gorgonzola cheese
1/4 cup dried cranberries
1/4 cup toasted pecan pieces
1/2 cup apple cider
3 T. fruity red wine (we like Old Curmudgeon Red)
1/3 cup light brown sugar
1/4 cup EVOO
8 oz. mixed baby greens
Kosher salt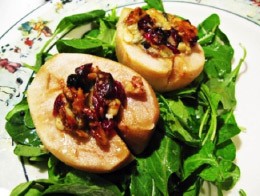 Directions
Preheat oven to 375°.
Slice pears lengthwise in half and scoop out core. Trim bottom so pears sit flat in baking dish. Toss pears with lemon juice and arrange, core side up in a baking dish.
Gently toss the cheese, cranberries and pecans together in a small bowl. Divide among the six pears, mounding on top of the indentation.
Combine the apple cider, wine and brown sugar, stirring to dissolve the sugar. Pour the mixture over and around the pears. Bake the pears, basting occasionally with the cider mixture for 30 minutes. Start checking them at 22 minutes, as riper pears will cook faster. When pear are done, remove from oven and set aside to cool.
Just before serving, whisk together the olive oil, ¼ cup of lemon juice and ¼ cup basting liquid. Divide the baby greens between 6 plates and top each with a pear half. Drizzle each pear with some of the basting liquid, sprinkle with salt and serve.