Egg & Cheese Puffs
With these hearty, delicious breakfast "muffins" in the freezer, everyone can have a hearty, delicious breakfast in no time at all.
Ingredients
1 lb. bacon or sausage, cooked and crumbled
10 eggs, beaten
1 (16 ounce) container cottage cheese
1 lb. Monterey Jack cheese, shredded
1 (7 ounce) can diced green chili peppers, drained
1/2 cup all-purpose flour
1/2 cup butter, melted
1 t. baking powder
1/2 t. salt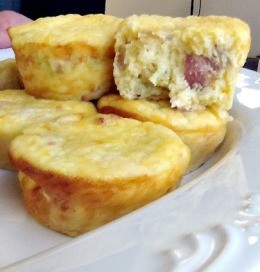 Directions
In a large bowl, combine eggs, cottage cheese, Monterey Jack cheese, chili peppers and bacon or sausage. Cover and refrigerate overnight.
The next morning, preheat oven to 350 degrees F.
Remove cheese mixture from refrigerator; stir in flour, butter, baking powder and salt. Spoon batter into 24 lightly greased muffin cups. Do not use muffin papers.
Bake in preheated oven for 25 to 30 minutes, until puffs are slightly golden on top.
When puffs are completely cool, package muffins and freeze.
Reheat slowly in the microwave when ready to use.