Green Apple French Toast
With this incredibly easy casserole prepared the night before, you won't have to flip individual pieces of french toast in the morning. You'll be able to enjoy another cup of coffee and relax while your oven does the work.
Ingredients
4 medium green apples, peeled & chopped (I like to leave the peel on)
1/3 cup brown sugar
1/3 cup sugar
1/3 cup margarine
1 T. water
1 t. cinnamon
8 eggs, well beaten
4 cups milk
1 1/2 t. vanilla
1 loaf of bread, crusts removed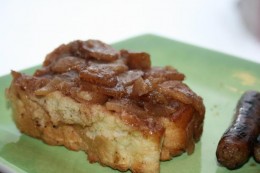 Directions
Melt margarine in skillet. Mix sugars and cinnamon in a small bowl, combining thoroughly. Add all but 2T. of the mixture to the skillet, then add water and apple. Sauté over medium-low heat 3-4 minutes. When the apple is just tender, remove the skillet from the heat; cool slightly.
Pour half the apples in a 13"x 9" baking dish. Layer half the bread slices over apples. Pour in remaining apples, then remaining bread slices.
Beat eggs and milk together; add vanilla. Pour egg mixture over bread and apples in casserole. Cover and refrigerate overnight.
In the morning, remove casserole from refrigerator; allow to come to room temperature (about an hour).
Preheat oven to 350°. Bake casserole, covered, for 30 minutes. Remove cover and bake an additional 15 minutes. Brush top of casserole with melted butter and sprinkle with remaining sugar mixture. Return to oven and bake an additional 30-45 minutes or until completely set. Allow to stand 10 minutes before serving.
To serve on a platter, run a knife around the edges of the casserole, place platter on top of casserole, and carefully flip.
Serve with maple syrup, if desired.