Grilled Southwestern Rib-eye Steak
The marbling in a rib-eye steak makes for a very flavorful and juicy steak without a lot of effort. The complex flavor developed by the dry rub seasoning is amazing and the marinade adds a final layer of flavor, making your mouth water in anticipation.
Ingredients
4 1" thick rib-eye steaks
1 tsp. granulated garlic
2 tbsp. smoked paprika
2 tsp. ground coriander
2 tsp. dried mustard
1 tbsp. brown sugar
2 tsp. Mexican oregano
2 tbsp. chili powder
2 tsp. Kosher salt
2 tsp. black pepper
1 tsp. ground cumin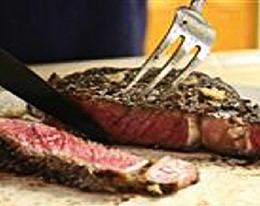 Directions
Combine dry seasonings; sprinkle seasoning mix onto both sides of the steaks, rubbing into the meat. Place steaks in a re-sealable plastic bag. Refrigerate for an hour.
Whisk together oil, wine and red wine vinegar. Add minced garlic and chopped red onion; pour mixture over steaks, turning to coat. Reseal bag and place steaks in the refrigerator 4 hours, turning 2-3 times.
Remove steaks from marinade; pat dry and allow to come to room temperature. Grill steak over coals or gas until done to your liking. Allow to stand 10 minutes before serving.