Lasagna Rolls
These are so easy to prepare……no more messy layered squares at serving time! A great recipe as is, but for additional complexity, consider adding ½ lb. cooked and crumbled Italian sausage.
| | |
| --- | --- |
| Prep Time | 30 minutes |
| Cook Time | 35 minutes |
| Total Time | 65 minutes |
| Yield | Serves 6 |
Ingredients
12 uncooked lasagna noodles
1/2 cup minced onion
2 cloves garlic, minced
1-15 oz. container ricotta cheese
1 cup + 2 T. Parmesan cheese
1 egg, beaten
1/2 t. crushed Italian seasoning
1/2 t. kosher salt
Freshly ground black pepper to taste
1 10-oz. pkg. chopped spinach, thawed and pressed dry
3 cups marinara sauce
1 cup shredded Mozzarella cheese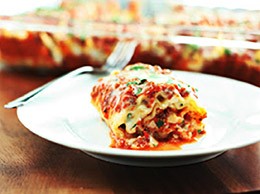 Directions
Cook the Lasagna noodles in boiling salted water according to package directions. Plunge cooked noodles into ice water to stop cooking; drain well. Lay drained noodles out flat on waxed or parchment paper.
In a small skillet, sauté onion just until translucent; add garlic and cook for 1 minute. Set aside to cool.
Mix the ricotta, Parmesan, egg, spinach, onion mixture, salt and pepper and Italian seasoning in a medium bowl to blend.
Preheat the oven to 350 degrees F.
Butter a 13-by-9-by-2-inch baking dish. Pour a thin layer of the marinara sauce over the bottom of the prepared dish. Lay out 4 lasagna noodles on a work surface, then spread about 3 tablespoons of ricotta mixture evenly over each noodle.
Starting at 1 end, roll each noodle like a jelly roll. Lay the lasagna rolls seam side down, without touching, atop the sauce in the dish. Repeat with the remaining noodles and ricotta mixture. Spoon remaining marinara sauce over the lasagna rolls. Sprinkle the mozzarella and remaining 2 tablespoons of Parmesan over the rolls.
Cover casserole tightly with foil. Bake until heated through and the sauce bubbles, about 20 minutes. Uncover and bake until the cheese on top becomes golden, about 15 minutes longer. Let stand for 10 minutes before serving.