Italian Sausage with Onions and Peppers
The juicy sausage, the tender peppers and onions, the bright tomato flavors of the marinara sauce. Absolutely delicious! Add some creamy polenta, a crisp salad with tangy vinaigrette and you have a meal for all seasons.
| | |
| --- | --- |
| Prep Time | 15 minutes |
| Cook Time | 30 minutes |
| Total Time | 45 minutes |
| Yield | Serves 4 |
| Varietal Pairing | Dry, medium bodied red: Syrah, Sangiovese, Chianti Classico |
Ingredients
6 Swiss or Italian sausage
1 T. olive oil
1/2 med. onion, sliced
1 red bell pepper, sliced
2 cloves garlic, minced
16 oz. marinara sauce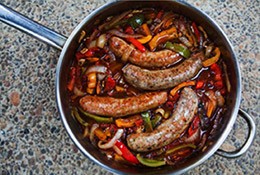 Directions
Place sausages in skillet; cover with water and bring to a boil over medium-high heat. Reduce heat to low, cover skillet and simmer sausages 10 minutes.
While sausages cook, slice onion and pepper; set aside.
Drain any remaining water from sausages; discard. Place sausages into 9" x11" baking dish; set aside.
In the skillet, heat olive oil over medium-high heat. Add peppers and onions; reduce heat to medium and sauté until vegetables are just crisp-tender. Add garlic and continue to sauté for another minute or two.
Place vegetables on top of sausage in the baking dish. Spoon marinara sauce over.
Cover casserole and bake at 350° for 20 minutes, or until sauce is bubbling and sausages are heated through.